05/10/2017 - Interviews
TEXT by Stella Bandinu & PHOTOS by Eric KNOLL. Images'Inn
LONGINES GLOBAL CHAMPIONS TOUR
TALKS WITH THE TOP TEN - SIMON DELESTRE
THE PRESTIGIOUS CIRCUIT OF THE LONGINES GLOBAL CHAMPIONS TOUR HAS HELD YET AGAIN A LOT OF SURPRISES AND EMOTIONS DURING THE 2017 SEASON. A FEW WEEKS FROM THE GRAND FINALE IN DOHA, ON THE 9-11 NOVEMBER, THE STARS OF THE LONGINES GLOBAL CHAMPIONS TOUR TOP TEN HAVE TALKED TO H. AN OPPORTUNITY TO KNOW A LITTLE BIT MORE ABOUT THE RIDERS WHO EXCEL EACH WEEKEND AT THE HIGHEST LEVEL THROUGHOUT THE WORLD. second RENDEZVOUS THIS WEEK WITH simon delestre, the only frenchman on the 2017 ranking.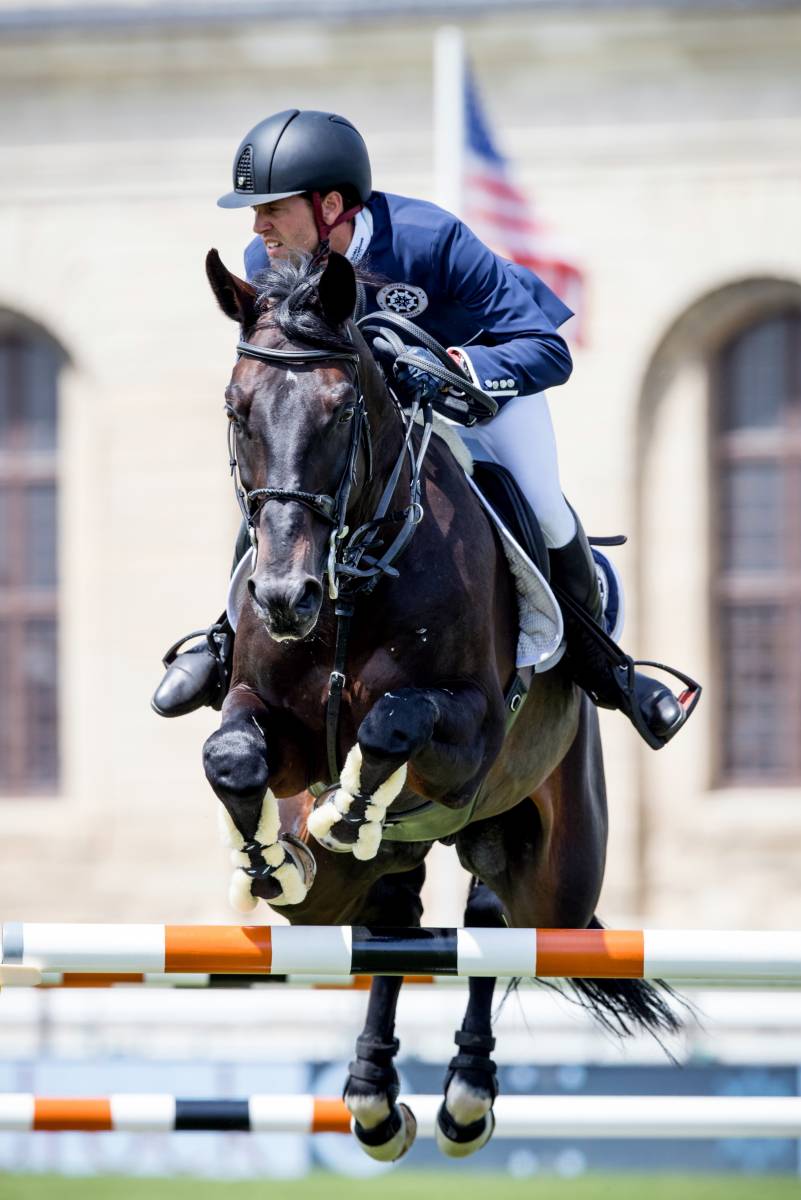 © Eric KNOLL. Images'Inn
WHAT IS YOUR FAVORITE LONGINES GLOBAL CHAMPIONS TOUR LEG? WHY?
Rome ! I find the location stunning, the conditions for competition are very good and I love that city where I often have very good results: I have won the Grand Prix of Rome three times!
HOW DO YOU SPEND YOUR FREE TIME BETWEEN CLASSES? DO YOU MAKE TIME TO VISIT THE CITY?
I usually have a rest after riding my horses very early in the morning, before the beginning of the classes. I like to warm them up and give them a good stretch before the competitions. If I have time left, I will go for a tour, but that doesn't happen very often.
IN WHICH CITY IN THE WORLD WOULD YOU IMAGINE A NEW LONGINES GLOBAL CHAMPIONS TOUR'S LEG?
New York !
WHAT IS YOUR BEST MEMORY OF THE LGCT?
My first podium in a Global Champions Grand Prix and it was in Valkenswaard.
WHEN YOU WERE (very) YOUNG, WHO WAS YOUR FAVORITE RIDER?
Marcus (Ehning) because at the time he was n°1 in the world ranking!
IN YOUR OPINION, WHAT MAKES A SPORTSMAN A GREAT CHAMPION?
Three things: work, reassessment and mental strength.
WHAT DO YOU LOOK FOR IN A GRAND PRIX HORSE?
A Grand Prix horse must have extraordinary mental strength, physical capability and respect.
WHAT MAKES THE LONGINES GLOBAL CHAMPIONS TOUR SO SPECIAL IN YOUR EVENT CALENDAR?
It's a very qualitative tour that has managed to gather the best riders on the planet in amazing cities.
YOU ARE IN THE ST. TROPEZ pirates TEAM. DO YOU HAVE ANY FUN FACTS ABOUT YOUR TEAM MATES?
I don't recall any particular fun facts but I can tell you that amongst us there's a lot of laughing. We are above all a group of good pals! (Simon Delestre shares this team with Jérôme Guéry, Julien Épaillard, Athina Onassis and Laura Klaphake).
A small fun fact about yourself then? Come on!
During one of the Chanpions League classes Jérôme and I wore the same polo-shirt. He had forgotten his at the hotel!
Subscribe to the Newsletter
Subscribe to the Newsletter
To keep the emotion, subscribe to the Newsletter