By NATHALIE MARCHAL
PHOTOS MIREILLE ROOBAERT
LUIGI D'ECLIPSE VS LAMBORGHINI
TAMED FIERCENESS
WHAT DO A HORSE AND A BULL HAVE IN COMMON? OR A STALLION AND A LAMBORGHINI? WE ARE ENTHRALLED IN THE TAL MILSTEIN STABLES.
In Asse, in Flemish Brabant, in the middle of autumn, the Tal Milstein stables reflect the equestrian world in all its glory. Outside, they are surrounded by age-old trees whose russet leaves lend a special radiance to the buildings, avenues, walking circuit and outdoor track. And inside, the space we enter is very well tended, almost intimist. Tal Milstein welcomes us in the car park, wearing riding gear. This world is his passion and he has made it his business. Our conversation is soon interrupted by an incredible roar: a yellow Lamborghini makes a striking entrance and stops right in the middle. This car expresses power incidentally. As if it is so obvious that it's totally natural. Patrick Bika, editor of Roadbook and H Equestrian Passion, gets out. He's testing it for his readers and couldn't resist the chance to combine his two favourite worlds – horse riding and cars – in Tal's delightful stables. Tal has agreed to bring the racing car face to face with one of his most beautiful stallions. A timeless moment. Captured by the acute, sensitive eye of our photographer, the result is fairly exceptional.
Nevertheless, between the horse and the bull, Luigi and the 'Performante', the pervading impression is one of power, elegance, mastery, strength and speed.
LUIGI THE MAGNIFICENT
Luigi d'Eclipse is a six-year-old stallion approved by Studbook Z and Selle Français (SF) whose sleek beauty takes your breath away. As does his temperament, for that matter: Tal Milstein tells us that this sports horse is a real fighter. And for the rest, just watching him evolve you sense the effervescent strength within him. "At the BWFA – the sale organised by the Belgian Warmblood Foal Auction, of which he is a co-organiser and co-selector, editor's note – in addition to his very interesting lineage (Catoki x Calato), Luigi d'Eclipse attracted widespread attention simply by his remarkable presence," he says, observing his foal. And while this foal, with his supple, powerful lines, is trained for competition every day, he is also highly prised as a stud horse.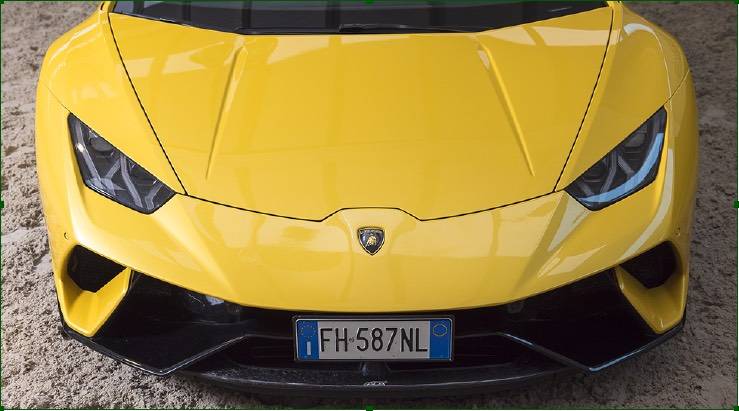 Decided temperaments and outstanding performances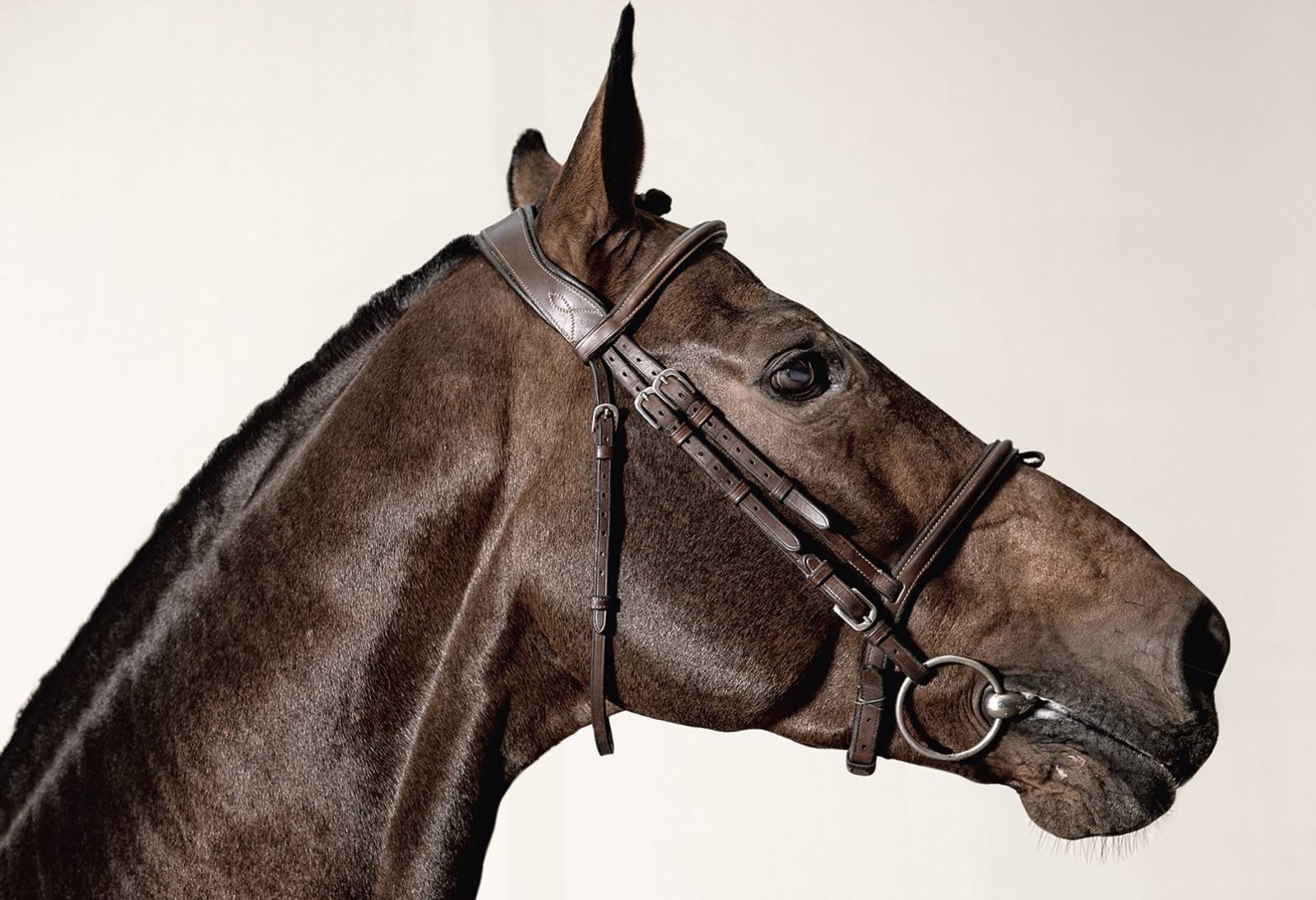 DECIDED TEMPERAMENTS AND OUTSTANDING PERFORMANCES
A VERY SYMBOLIC LOGO
Hyper-sportive and capable of breaking records on the circuit and offering the height of driving pleasure on the road, the new Lamborghini Huracán Performante was revealed at the Geneva Motor Show this year by the eponymous Italian car maker. Its logo? A golden bull on a black background. The astrological sign of the make's founder, Italian industrialist Ferrucio Lamborghini, it also symbolises a powerful, wild, impulsive animal. Look carefully – it's ready to charge... Perfectly illustrating the determination of the prestigious sports car make.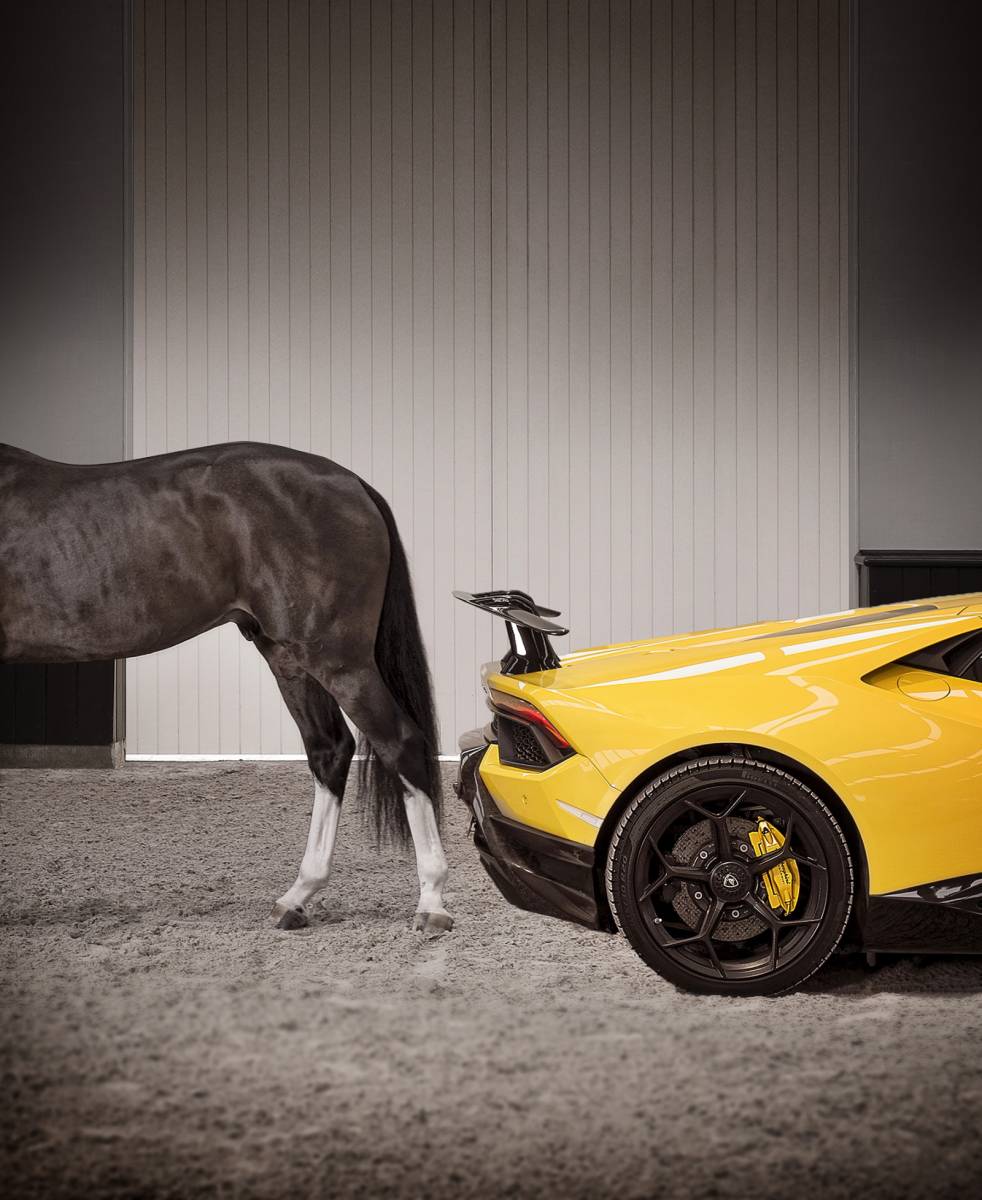 JShowpieces: athletic silhouettes and tense lines, ready to go.
ONE STALLION, 640 HORSE POWER
Contemplating this horse and this car, both exceptional in their respective fields, prompts a little exercise in mental calculation... A Lamborghini Huracán Performante with a capacity of 640 horse power is worth around € 238,000, while the semen of Luigi d'Eclipse costs € 1,000. That would equate to around 250 little Luigis for this thoroughbred on wheels, whereas the one on legs – careful, Luigi is watching us, with his tendency towards high-bred airs and fast movements – is quite simply priceless. Nevertheless, between the horse and the bull, Luigi and the 'Performante', the pervading impression is one of power, elegance, mastery, strength and speed. The stuff of legend.
Subscribe to the Newsletter
Subscribe to the Newsletter
To keep the emotion, subscribe to the Newsletter