PART 2
WE WERE THREE
FROM NEW DELHI TO BRUSSELS
There were three of us who wanted to make a dream come true, connecting New-Delhi to Brussels with vintage Royal Enfield motorcycles from the 70's, even though we had no experience driving two-wheeled vehicles or mechanical knowledge. It is driven by the desire to discover the remote and legendary regions of the Silk Road that we have started with this expedition.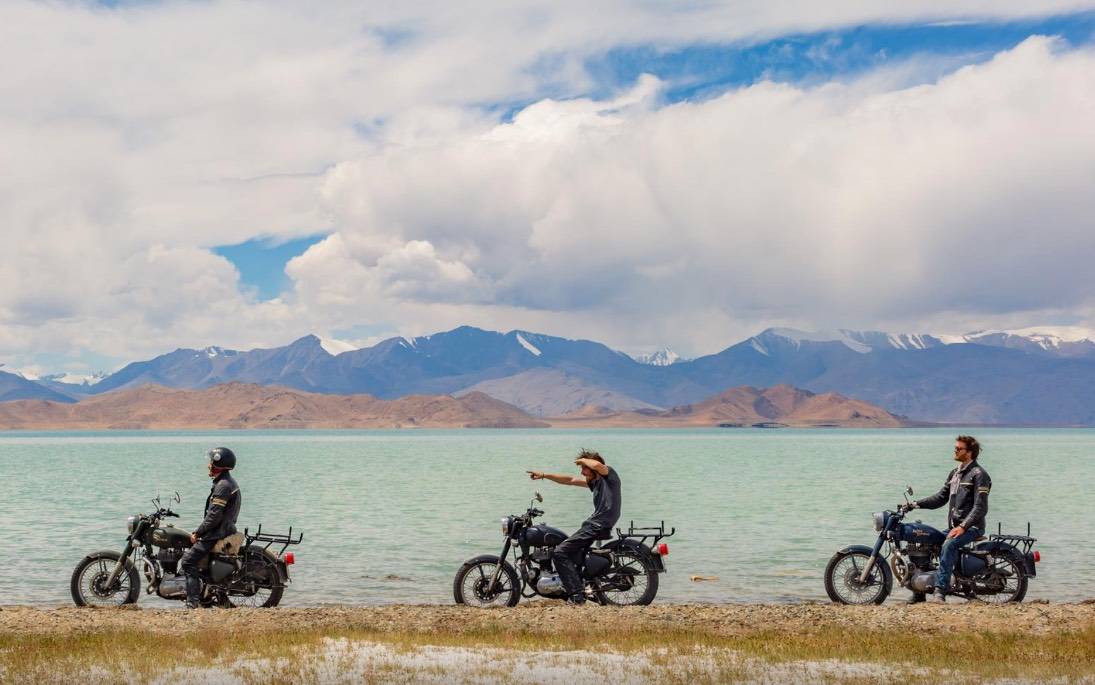 Part of the expedition was Donald, a passionate navigator and cinema lover who wanted to use his experience as a sailor to discover the beauties concealed in the mountains of Central Asia.
There was Thibault, a polyglot and a filmmaker who will take advantage of the five languages he speaks to create connections with the local population. The trip also aims to produce a documentary in collaboration with Donald.
Finally, there was Léopold, at the origin of the project. Political scientist and economist, for him this trip will sign the culmination of his studies and first great long-distance journey after many backpack trips and a year of study in Beijing.
In July 2016, after more than a year of preparation from Belgium and China and a few weeks of setting up in New Delhi, we finally leave India to enter Pakistan and actually start the adventure off the beaten trails.
At the beginning of the trip we did not know what to expect, we were worry with so much the equipment piled up on our bikes.
Adventure was not long to be found, arriving in Pakistan at the beginning of the Aïd, a celebration to celebrate the rupture of the fasting. The roads were crowded and the delay accumulated during the preparations in India pushes us to ride up to 17 hours per day, the first mechanical troubles are felt and we are immediately immersed in the adventure.
On our first night on the Karakoram Highway, the long road that connects Karachi to Kashgar through the Himalayan passes, Donald's bike breaks down at 3 am, can not be restarted and we decide to sleep in a canvas tent that is located along the road. It is deserted but there are beds that are made and some equipment. We will spend the night there and at dawn we meet face to face with the owner who came to visit his tent, amazed, he invites us directly for breakfast tea in the second tent he owns, a hundred meters downhill. They are Afghan refugees, beekeepers along the roads. This meeting is in the image of so many others that we will have during the trip. This was the real discovery of our trip. We were really struck by the kindness of the people we met, whether it was for the help we received during our repetitive breakdowns, the attention they gave us during our video or cultural stops, or their hospitality.
When we set off in the morning, we did not know where we were going to sleep. At nightfall, we would knock at the gates of the dwellings and ask in a mixture of Russian and sign language if we could spend the night at home. Very often, the response was positive and enthusiastic. We were then invited to share a meal and to discuss until late at night. In the morning, we received a rich and solid breakfast that we took after our hosts, they were already gone to take care of their animals or work in the fields. If we could not find any dwelling in the neighborhood, we would put up our tents and prepare a campfire to cook our meal and discuss under the starry sky until sleep wore us up.
Our journey took us through Central Asia and more precisely through the "-stans". These former Soviet republics offer fabulous landscapes, revealing itself corner after corner on very varied roads. Some roads are full of sand, others made of rockeries or rubble, concrete or macadam, or flooded. Some portions are more than 5,000 meters high while others are below sea level. The landscapes are incredibly diverse. We have, for example, passed from high desert plateaus where the trees do not grow and where only a few herds of wild yak or ibex graze the rare vegetation, to vast fertile valleys irrigated by large streams. We have also encountered all kinds of climatic conditions, ranging from arid deserts to snowstorms in Turkey or China. The mountains are indeed never far, offering in spectacle their snowy, rocky and sharp peaks.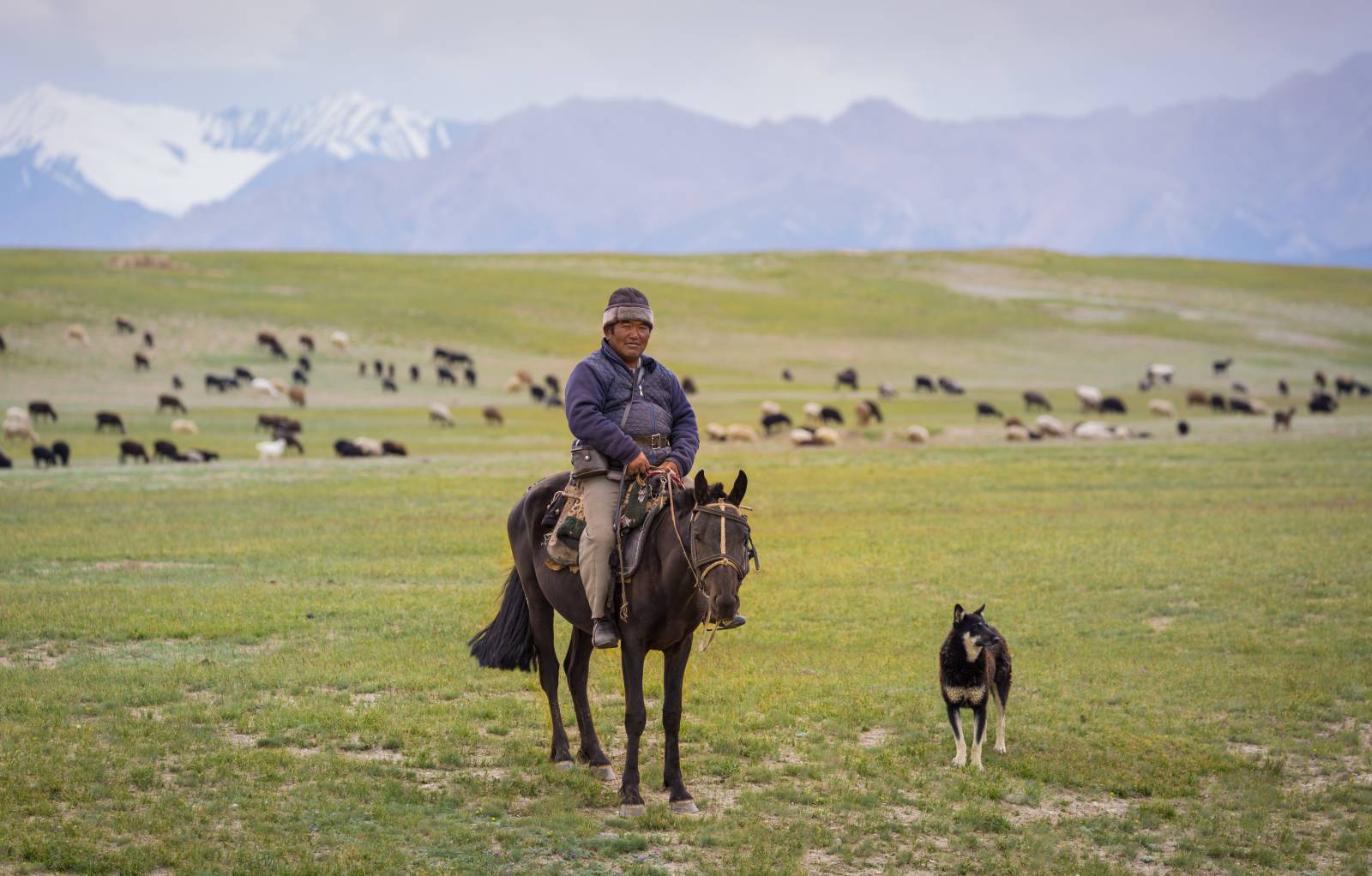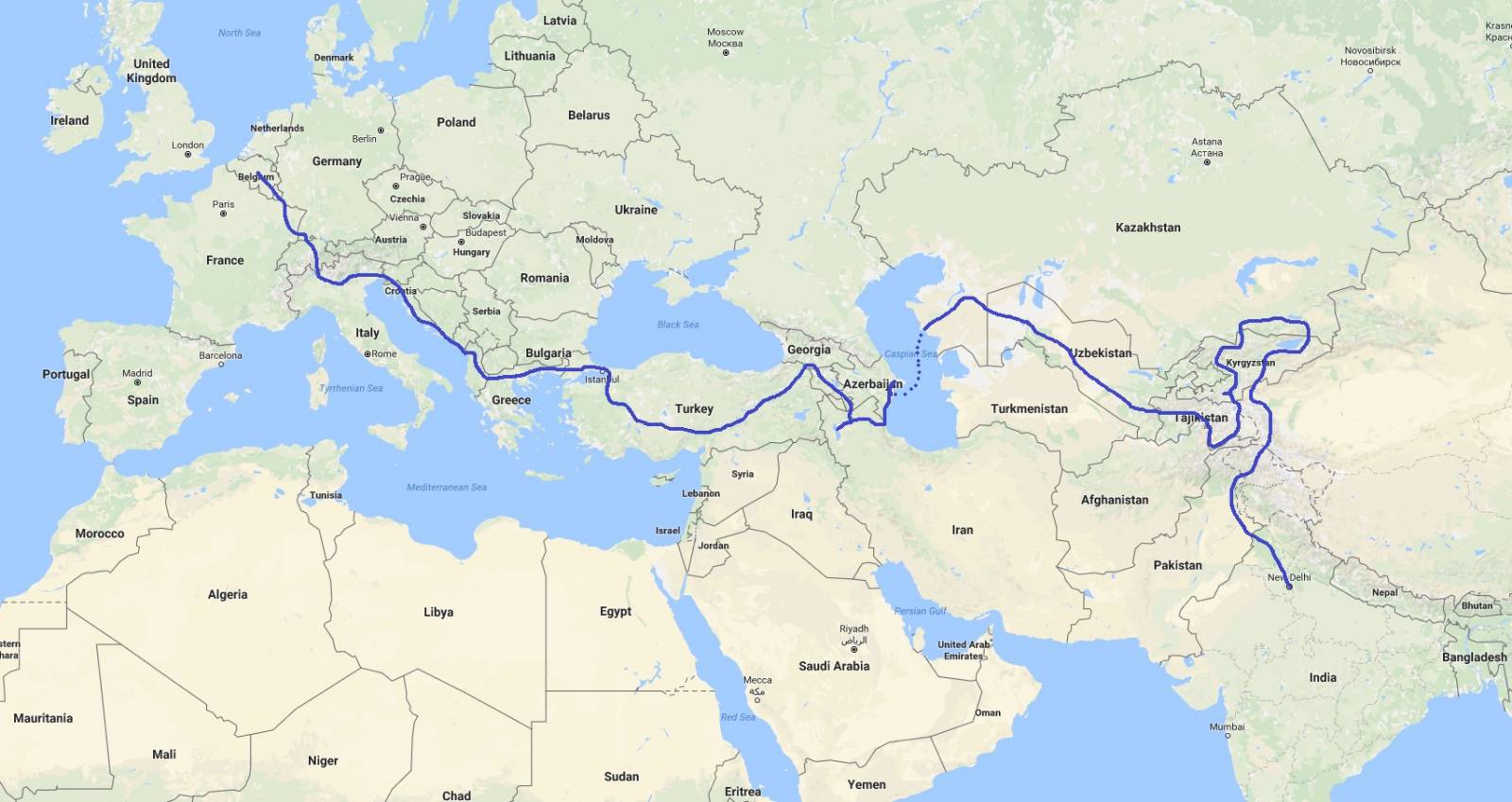 It is on the great plains of Kyrgyzstan that we met with semi-nomadic people, horse breeders who accompany their herds in the highlands during the summer and take refuge in the cities when winter arrives. They live in yurts made of wooden poles, heavy fabrics and animal skins. Even in summertime the temperatures are cool and at night small stoves burn dryed horse or cow dung to heat the room because no tree does grow at such altitudes.
We were welcomed by many families of nomads on our journey, inviting us each time to share a meal with them, made of fresh bread, very rich butter, jam and rice. Sometimes a little piece of meat or vegetables comes to brighten the plate. Otherwise, the spices take charge of adding some flavor. Of course, we are always welcomed with the traditional drink, Kumis. A cup of fermented mare's milk aged jars made of horse leather. As soon as it begins to sparkle, the beverage has sufficiently macerated. The taste is quite surprising, both bitter and rancid. The first glasses require a significant effort to get through it, we must not vex our guests.
The only constant in our trip was the uncertainty, whether for the mechanics of our motorcycles or for visas with which we had to juggle. This required us to constantly plan several scenarios in advance. Our resources were limited and needed to be optimized. The bazaars of Central Asia are full of objects of all kinds that sometimes have helped us, but often we had to be ingenious to get to a border in time, to repair a motorcycle or obtain a visa in due time and at the due place... However, each time we found a solution and we could start again, we felt an immense joy and a sense of personal accomplishment that gave us the courage to continue further.
If the landscapes go by and seems repetitive sometimes, this is not the case of the local populations. We have met many families, we are friends and have learned to know some customs and their regional folklore. These regions are mostly Muslim but there are many currents: Shiites, Sunnis, Sufis, Ismailis, etc. It is with immeasurable pleasure that we have listened to their stories, traditions and legends. Three times we had to stay in the same place for two weeks, was it for visa issues or mechanical breakage requiring spare parts to be brought to us by plane. The best memories we have from the trip are those authentic encounters we had during our "forced" breaks, giving us time to truly bond with our hosts. We were invited to share their privacy, whether for a Sufi ceremony in Lahore, weddings in Dushanbe and Bukhara, family dinners, motorcycle races on deserted car parks in Tabriz or a meeting with Pope Francis in Baku.
At the beginning of the trip we did not know what to expect, we were worry with so much the equipment piled up on our bikes. Quickly we learned to trust the premises. When we were going to eat during our lunch breaks in the villages, we would leave the motorcycles with all the equipment along the road and when we returned, nothing had moved, a few selfies had been taken, that's all. Perhaps the most striking example for this trust was our arrival in Iran. After two weeks of repairing in Baku we could finally get back on the road, precisely on the last day we could arrive in Iran, according to the date on our visas. It is a big riding day and we arrive at Astara 15 minutes after the closing of the border. Fortunately, the officers allow us to pass through and enter Iran. But the motorbike of Thibault, freshly repaired, did not survive the journey and does not start anymore. The next day, in Iran, Léopold is looking for a mechanic while Donald and Thibault try to open the engine for an initial diagnosis. A young Iranian man approaches Leopold on the street to offer his help in English. He arranges for a mechanic to come and see the motorcycle and it is said that the motorcycle should be brought to Tabriz, the biggest city in the region, for repairing, the damages are too important. The young Iranian, full of resources, calls a cousin who has a pick-up to transport the motorcycle to Tabriz, as well as another cousin who lives there to welcome us.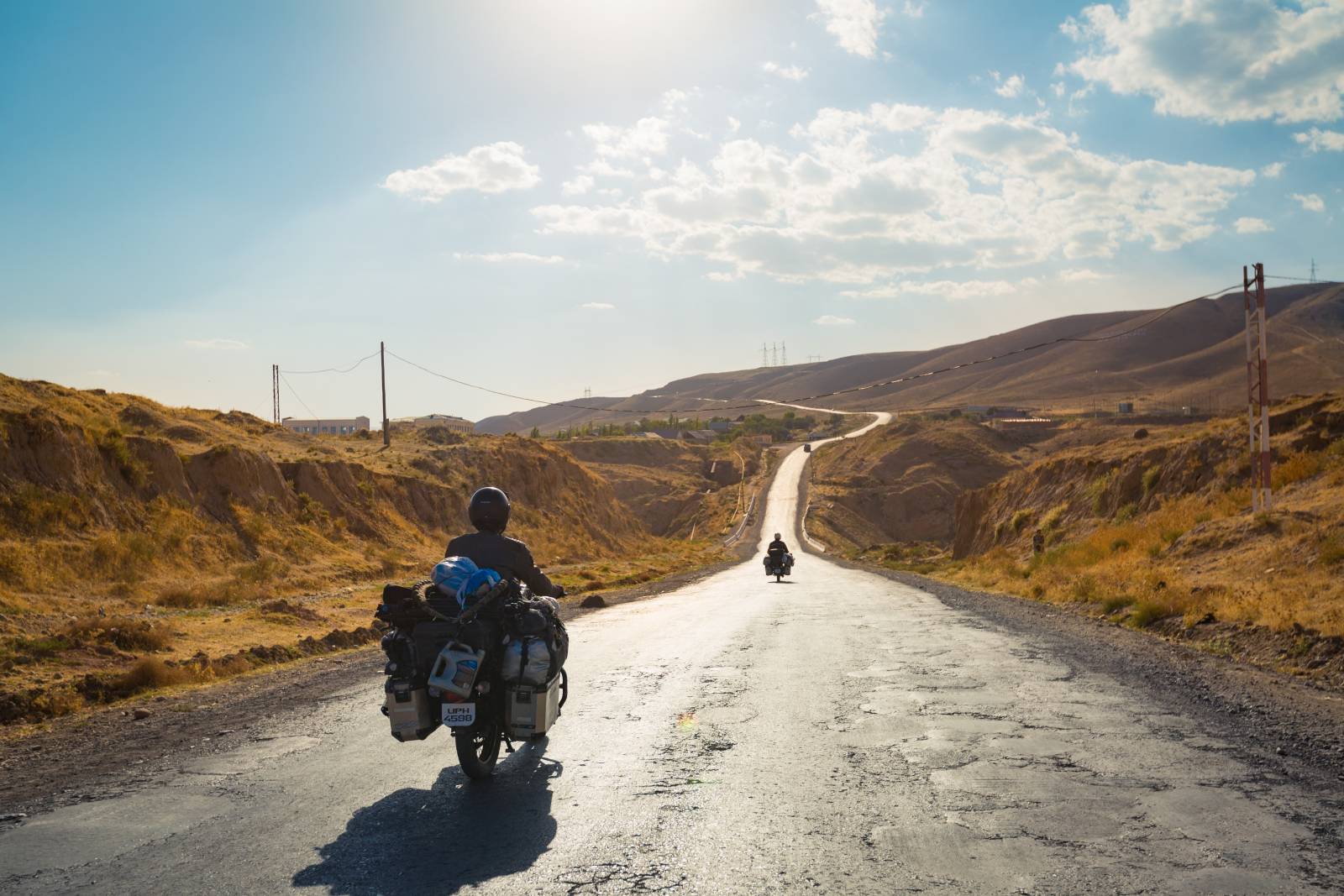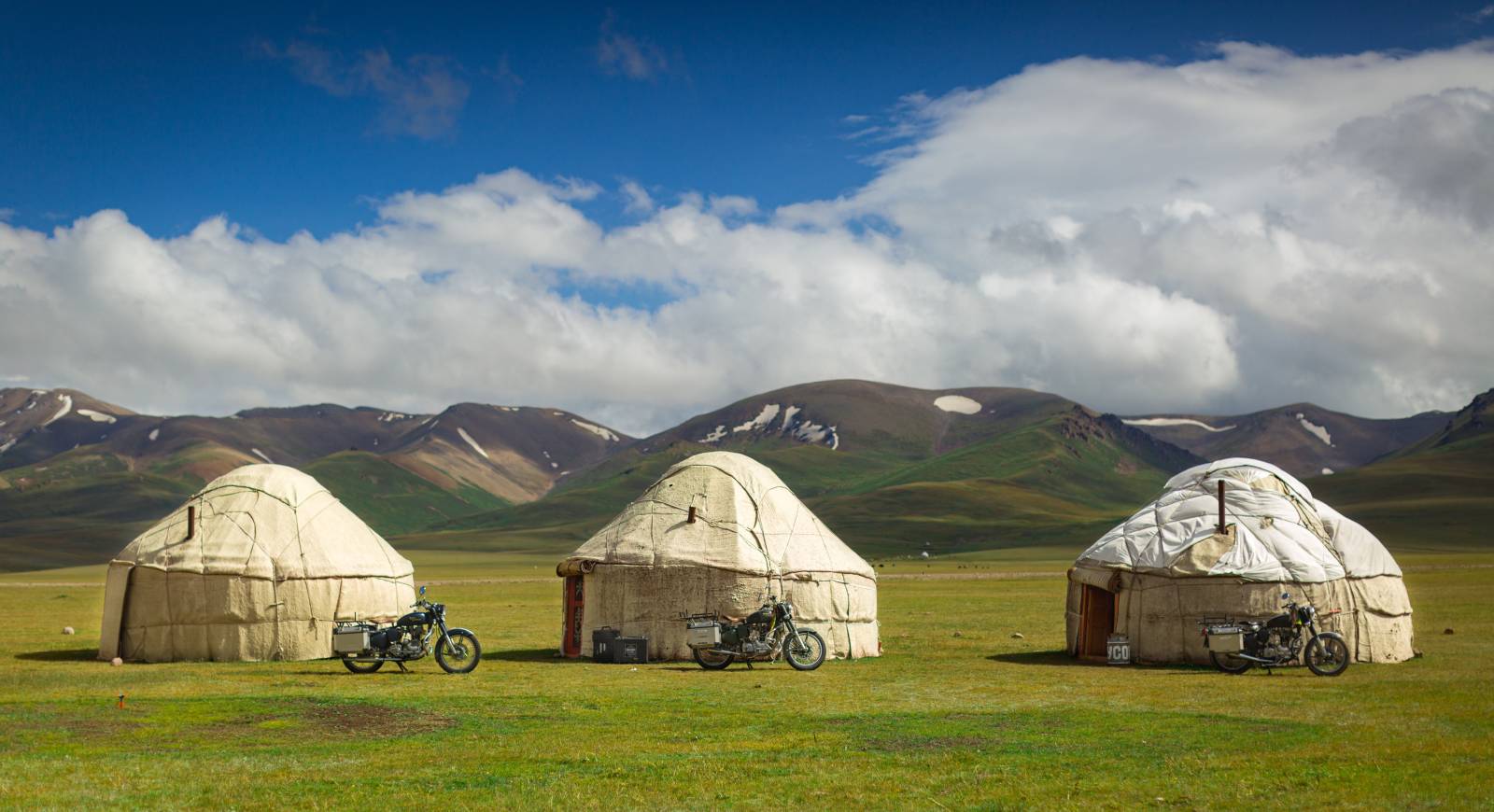 In the early afternoon we take the road, Thibault in the pick-up and Donald and Leopold behind, on the motorcycles. We arrive at Tabriz around 11 pm after a long drive. We arrive in the midst of the Ashura, a highly symbolic Shiite ceremony in Iran. The streets are overrun with unusual popular fervor. Large groups of men in black are in the streets, striking their chests or wielding sticks to the rhythm of large drums. The situation seems surreal, the streets seems alive. To find the second cousin in the middle of all this agitation is not easy and finally, after many phone calls from our driver, we manage to reach him. He guides us through street mazes to a garage where we store all our belongings, before closing it and guiding us to the mechanics, which he has warned and who is waiting for us. We try to see if one of us can sleep with our belongings but he decrees that it is impossible and we will follow him again in a maze of streets. Arrived at the garage, the mechanics "tastes" with the help of his fingers the soot of the exhaust and guarantees us that it can repair the motorcycle easily. He puts it in his workshop, closes the door and indicate us a small hotel not far away. Once we arrived at the hotel with the two remaining bikes and without our belongings, our host told us that it is more prudent to store the motorcycles in a small garage a little further away. We followed him again with the motorcycles, storing them between boxes in a small garage before going back to the hotel room. It's 2AM and we are in a small hotel room, with all our belongings scattered throughout an unknown city with people we do not know. We would never have been in this mindset before the trip.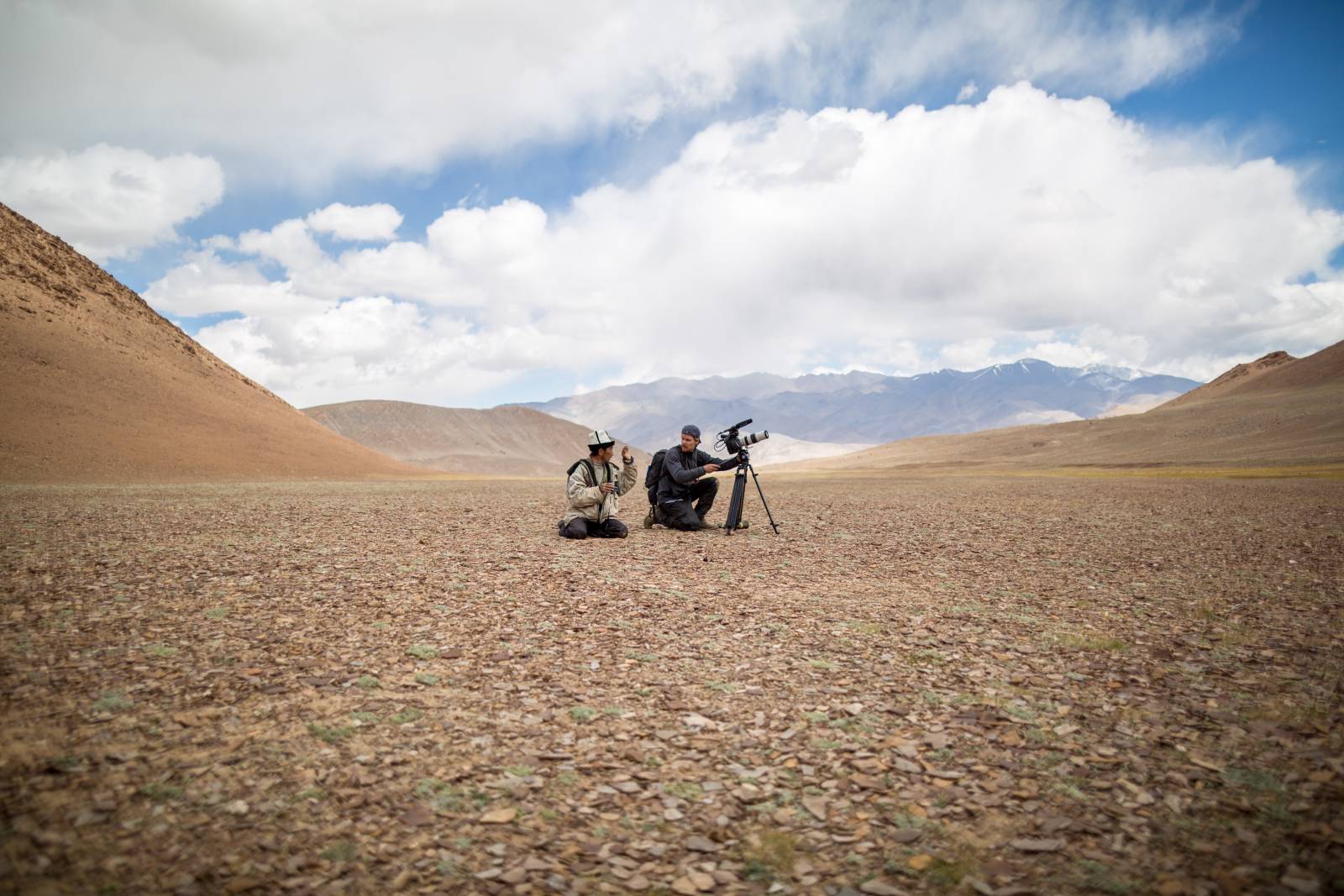 Gradually we learned to trust our friends from Central Asia. Before we left, we were apprehensive about what was going to happen to us, we were going to the unknown with motorcycles that we did not know, inexperienced, but we were going there with determination. What we have learned is that the first step is the most difficult, once on the road and despite all the unforeseen events that have occurred to us we have always been optimistic. We never thought of giving up because every time solutions were found, people came to help us when we needed them and we were really touched by the openness and kindness of both the locals and the travelers. Once we're on the road, we do not ask ourselves whether if we're going to get there, because that's the only option we have.
It was in those moments that we could surpass ourselves in order to overcome the obstacles that barred us the way.
To conclude, our journey through unknown places with motorbikes with a well-tempered character and very uncertain reliability was a true adventure that pushed us beyond our comfort zone. This extraordinary journey taught us to know each other better, but especially ourselves, when we had to face adversity. We now have the feeling of being part of this very open circle of travelers who, rejecting prejudices, emerge from their habits to embrace the world in its immensity. We returned to Belgium with our eyes full of stars and the desire to undertake new trips to new, remote destinations, without ever forgetting this spirit of adventure. We have wonderful memories of the journey, the immensity of the landscapes we have passed through, the breathtaking beauty of the mountains, the smug smile we displayed when we arrived at the top of a mountain passes, when a new range of mountains was unfolding majestically before us. We have lived thousands of anecdotes, hundreds of stories and many adventures. If we keep some of it for ourselves, we want to share as much as possible of our experience so that others may embark on adventures that may seem unlikely at first, but which will materialized because they've been believed into.
For more information, anecdotes or contact us, do not hesitate to visit our website www.theroyalsilkroad.com or our Facebook / YouTube / Instagram page or send us an email @ hello@theroyalsilkroad.com or louisleopoldwirtz@gmail.com
Subscribe to the Newsletter
Subscribe to the Newsletter
To keep the emotion, subscribe to the Newsletter