by Maria Graae
Château de Fontaine
Haras Dressage
A thoroughly unique dressage stud a la mode in Normandy, France, founded by Danish Bolette Wandt features some of the best international young sport dressage mares in the world and their glamorous offspring.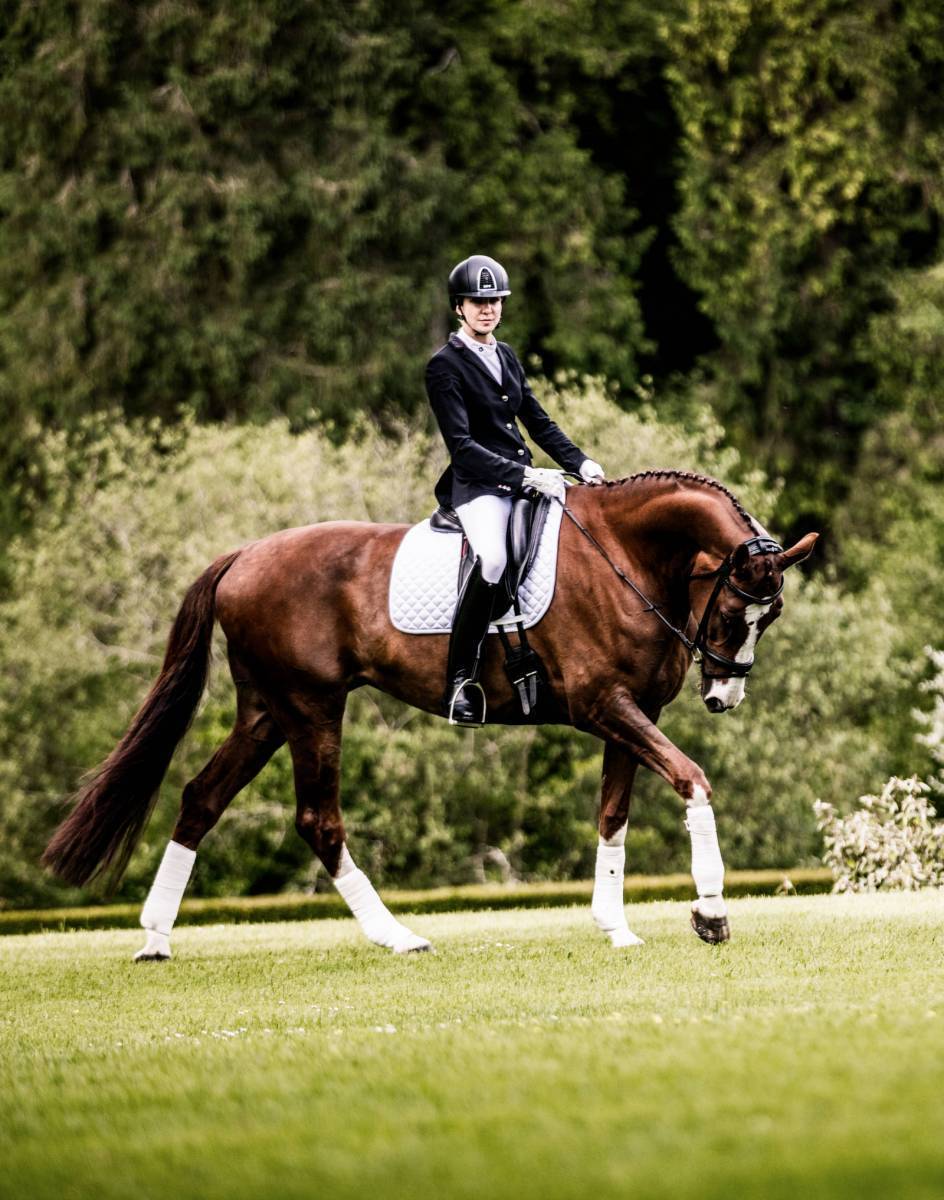 Photography Mads Dreier
"Meet Garland, Rose and Delorina de Fontaine" say's Bolette Wandt greeting the three elegant looking foals curiously gathering at the gate with their soft muzzles, under the watchful eye of their dams.
"There's something so genuinely magical about horses, I almost get emotional talking about it, because it's something so very close to my heart. It's such a deep connection and feeling of happiness, they embody everything I hold dear in life. They're stunningly beautiful and yet so very powerful," Wandt willingly confesses. She's the founder of Château de Fontaine Haras Dressage, a dressage stud farm, channelling the world of dressage and the magic that is Normandy, while paying homage to the most beautiful animal in the world.
"At my families modest childhood farmhouse holiday home in Sweden, chestnut gentle giant workhorses were pastured near by, I was instantly drawn to them and I've been a horse person ever since," Say's Wandt. "My first memory of horses was a hobby-horse named "Lotte" which my father and I made together during one summer holiday in Sweden. I was five. I still have Lotte today she's followed me everywhere over the years" Wandt confesses. "Later on I was lucky to have my own horse growing up. And the love of horses have stayed with me over the years, during the years of studying in Copenhagen and later spent raising our children in London. Even while living in Bali the love and longing for horses where a constant in my life," Say's Wandt who holds a Master's degree in law.
We're in the heart of Normandy, Northern France, one and a half hour's drive west of the hustle and bustle of Paris, Château de Fontaine appears, nestled on 132-hectare ancient foliaged terrain of orchards and oak trees dotted with fenced green fields and glittering ponds.
The Estate extraordinaire was discovered in 2014 by the Danish couple, Bolette and Jacob Wandt, who lost their heart to the property and began its revitalization, transforming it to a welcoming and inspiring setting for both horses and humans.
... An old cider press and our wonderful apples, inspired my husband to re-introduce cidermaking at the Estate, we've planted 400 trees so far and more are still to come," say's Wandt while pausing to admire the small shiny apples hanging from the trees.
And the founding place of Château de Fontaine Hara dressage, Wandt's stud farm, which lets ambitions run bold: Breeding some of the best young dressage mares in the world, while they are pursuing their international sport careers at the very same time, via most recent technology. "We specialise in breeding dressage horses of the highest standard, from elite sport mares currently competing," Wandt says, "What sets us apart from most, is how we let the unique quality of our mares and their own performances play centre part, rather than the nationality of their studbooks."
We take a seat in the old Château gardens where the calming scent of lavender fills the warm summer air and present a breathtaking view of the fenced fields where mares and foals are peacefully grazing and resting in the sun, while the old trees on the hillside produce a magnificent backdrop. The English bulldog Lola settles in the grass next to the table, while following her blond charismatic owner with the eyes.
From late February to early July heavily pregnant mares fill the foaling stable in deep beds of warm straw at the Estate for the second foaling season of the Château. "It's my favourite time at year. A time when excitement hangs in the air, it's a waiting game and an exercise in patience, of hours in the stable, a few sleepless nights, adrenaline rushes and time spent doing what I love most; welcoming stunning foals with little noses soft as silk," Say's Wandt while the three foals, who just minutes before were eagerly seeking our attention, suddenly decide to playfully roam the field in the distance. They are far from alone, in fact a patter of tiny playful feet can be heard all over the Estate, as the dressage stud has seen a delightful baby boom for its second foaling season, welcoming 18 embryo foals as new members of the Fontaine family.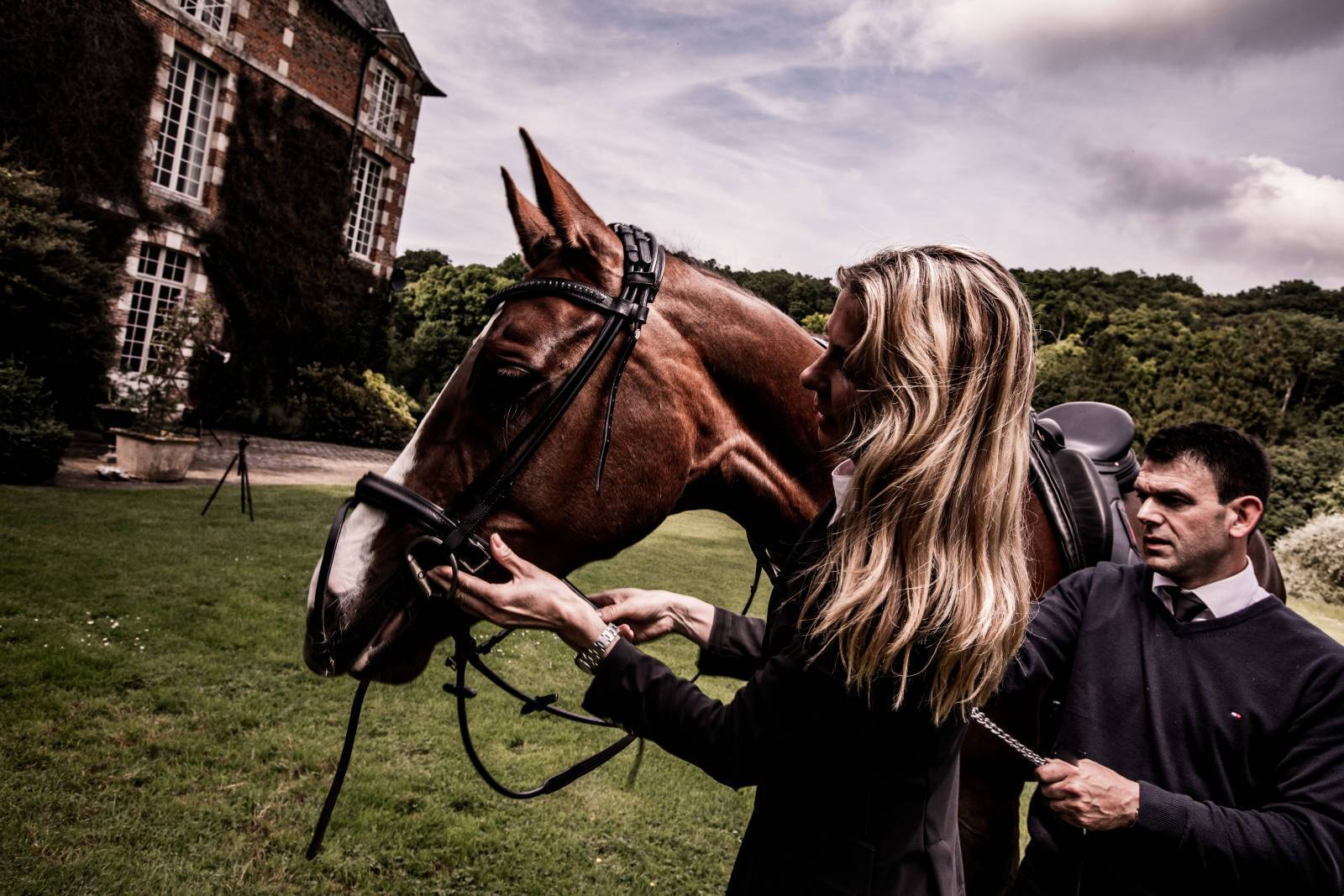 PHOTOGRAPHY MADS DREIER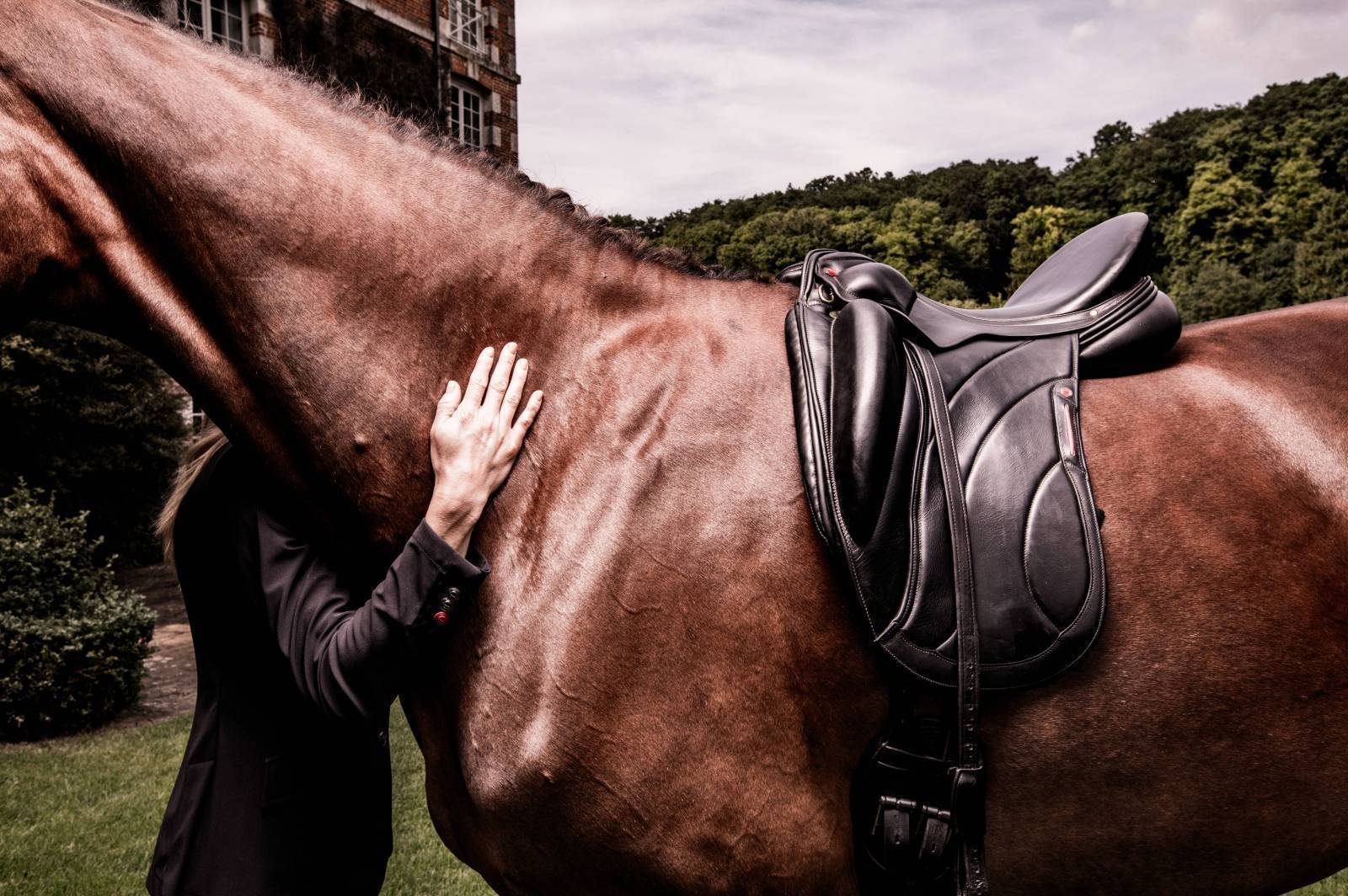 PHOTOGRAPHY MADS DREIER
On average not more than 3-6 years old, every each of the stud mare's are superior quality dressage performance horses in their own right, having earned amazing sport results across Europe and holding even greater promises in their on-going sports career towards the highest international level at Helgstrand Dressage, Denmark, while their offspring enjoys the green pastures of Normandy.
"We are proud, but also often humbled by being able to introduce such a very special selection of horses, it's such a joy and inspiration but also a responsibility, "Wandt declares," partnering up with Helgstrand Dressage we get access to a level neither of us could achieve on our own" she says; "To have someone like Severo Lopez, who came fifth at the Rio Olympics, to mentor the development of our horses is a dream come true" she confesses.
At the Haras Dressage they see selective breeding as essential to produce performance horses, in demand. "By selecting the best of the young up-and-coming mares and stallions of modern bloodlines, our aim is to produce offspring who will stay relevant for generations to come," Wandt says. The mission is to buy, breed and produce high-end, in-demand horses; a true niche product in limited numbers available world wide. "The number of individuals at the stud will remain exclusive, to make sure our collection is always carefully curated and ever changing," says Wandt "this means we occasionally sell some of our mare's, which is always bitter-sweat, but at the same time a must, in order to keep up with trend."
The Château de Fontaine Haras Dressage stud currently holds 10 high quality sporting dressage mares, handpicked all over Europe, and their offspring, among them are and Florentina, Price Highlight of the 2016 Westfalian Autumn Elite Auction as well as the eye-catching Casablanca who ridden by 25-year-old Australian born Simone Pearce, are qualified for the prestigious 2017 Longines World Breeding Dressage Championships for Young Horses. An event gathering the very world elite in Ermelo, Holland, and expected to attract more than 20,000 spectators from all over the globe, "The championships is one of the very highlights of the equestrian season, four days of riveting sport designed to highlight new and developing talent. Witnessing a young horse like Casablanca enter an international arena for the very first time is simply goosebump-worthy, " Wandt exclaims.
The upcoming generations of foal and youngsters undergo a careful selection and receive the best care possible under the skilful eyes of stable manager and Haras du Pin graduate Jérôme Pichereau and his tightly knit team. In the very region, internationally renowned for its ideal location and centuries-old horse-breeding traditions, in fact the oldest and most magnificent national stud in France Hara's du Pin is located less than one hours drive south west of the Château de Fontaine Estate, very much a place where uncompromised principles for horse breeding is still flying high: "Drawing from the equestrian culture genuinely rooted in the region, is a continuing source of inspiration to us. Not just the horsemanship but the strong sense of culture routed in the region as whole, Wandt says.
Since 2014 the estate of Château de Fontaine has served as the private home for Danish Bolette and Jacob Wandt and their four children. Jacob Wandt is the founder of e-conomic, a European pioneer company in accounting. "e-conomic is the highly successful story of how a good idea and setting a dedicated team proved to be the recipe for creating an innovative company." Say's Wandt Besides the dressage stud, the Estate now includes a sawmill, apple orchards and a cider making facility of the highest standards.
Dating from the 17th century, built to dazzle and entertain, today the Château walls still echoes to the sound of royal visits, carefree dining and togetherness of friends and family.
Today the Wandt family have taken on the responsibility to awaken the sleeping beauty estate and transform it into a welcoming and inspiring setting for outdoor activity and adventure, reviving and celebrating the cider making, locally sourced products and equestrian heritage at the very same time.
"The Château de Fontaine Estate instantly captured my heart and felt like home. How or why is not something I can easily put into words, the feeling was just immediately there and has not left me since" Wandt explains, while Lola the dog rolls in the grass and sniffs. Petting the bulldog Wandt continues; "What I love most about my life here is how everything keeps evolving, we keep discovering new things about the Estate and Normandy that keeps us falling even deeper in love with the place. Everything just keeps turning out even better than my husband and I could have ever imagined."
Throughout the planning of a new home, not to mention a château dating back to Louis XIV of France, it's natural to fall in love over and over again with all the possibilities that could become tangible, when having the world of style of ones feet. The question then is how the Wandt Family managed to stick to one vision when creativity and talent are limitless, "We wanted to create a celebration of "joie de vivre" or in English, the feeling of happiness or excitement about life; re-discovering the history of the century old Estate and to bring back the distinct and exciting warm scent of horses, softly blending with the richness of leather, apples, cider and timber,"says Wandt. "Our finest mission is to invite people in, tread lightly and to preserve the authenticity of the Château and region as much as possible," she passionately declares, pointing towards the current building site, where builders are in the process of developing new spacious light-flooded stables, including lab facilities as well as an indoor arena with a spacious entertaining area, living facilities and a terrace with the most wonderful view, perfect for events and togetherness. "I genuinely feel we're setting new standards, inviting people in, creating a melting pot of fine food, horses and that international vibe of city life in London or Paris," Wandt openly confesses, working with an international team specialising in architectural and interior design, inspired by the materials, colours and textures genuinely rooted in the Château and it's traditions as a fixture in the local community.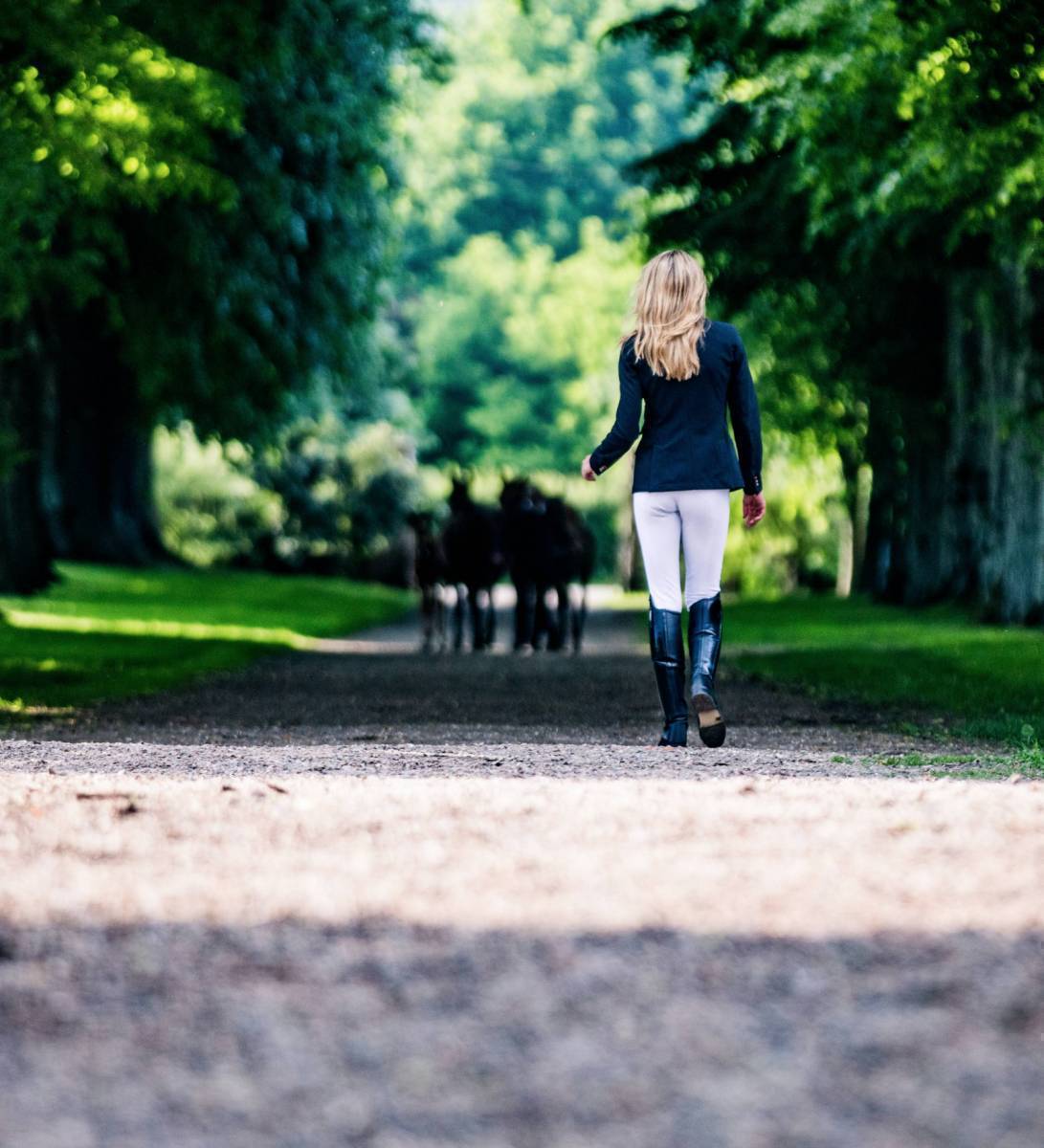 Photography Mads Dreier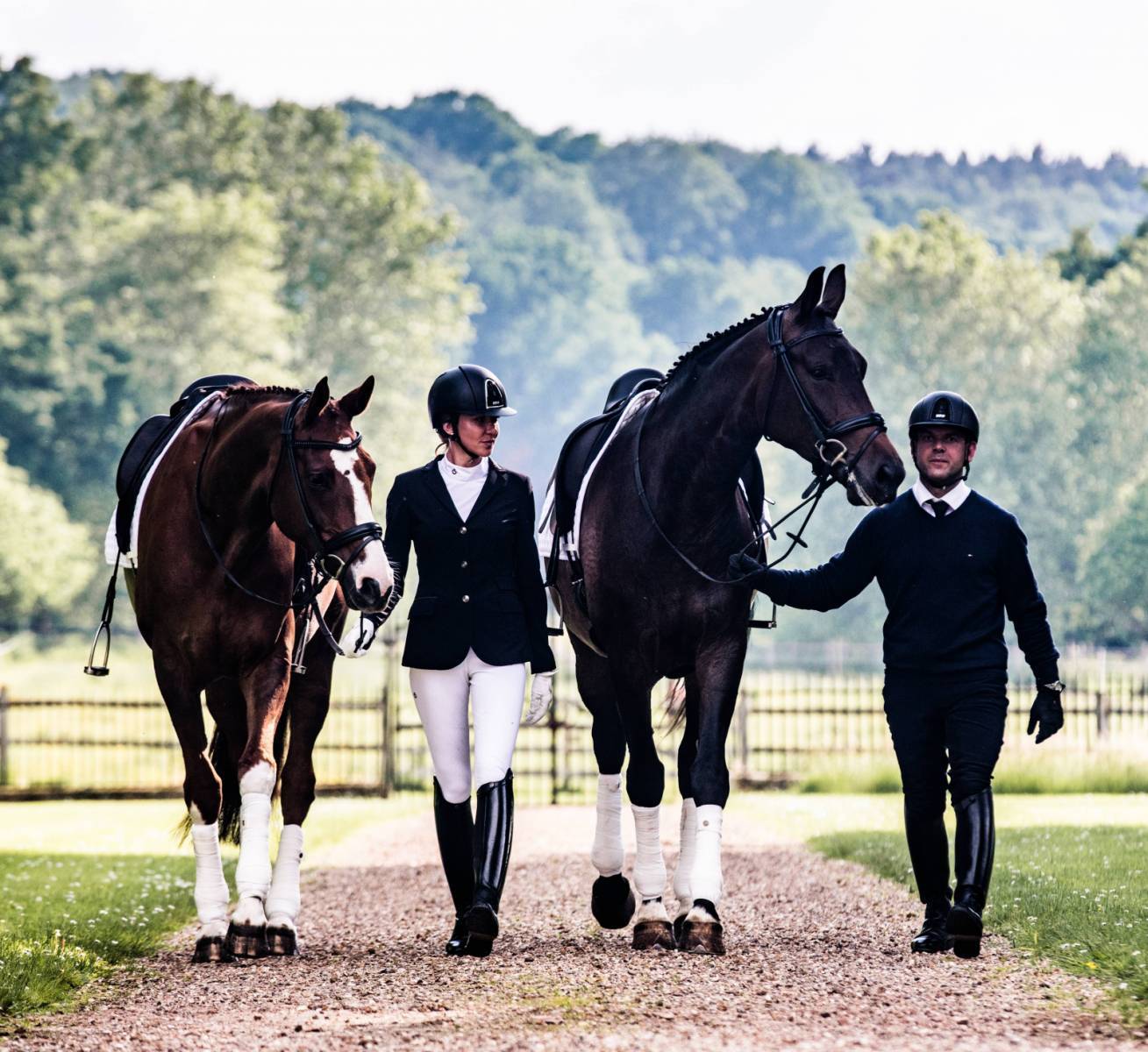 Photography Mads Dreier
Yet not everything will remain completely classical, Wandt has invited international heralded architects and interior designer's Christopher Noto and Thierry Janssens in on the transformation of the Château, and together they combine skills to create unique places with a cohesiveness of both architecture and interior design: "I find their passion for architecture and for interior design so inspiring" she adds "they do not design buildings, they design lifestyle experiences, ignoring the boundaries created between architecture, interior and landscape."
Neither Noto or Janssens feel the urge to prove themselves as contemporary designers by either creating something radically new or by designing against the past. To them, as the Wandt family, being contemporary means having a responsibility to bridge past and future: "It's something we owe, both our talented predecessors and to those who will take over after us." Says Wandt.
And speaking of bridging the past and the future, "Coco Chanel is someone who inspires me greatly, how she embodied casual chic and successfully breath new life and fresh air into fashion, fully embracing the spirit of the times," Wandt says about the French icon who started her fashion revolution in Deauville, a seaside escape for well-heeled Parisians, just an hours drive from Château de Fontaine, when opening her first fashion boutique, in 1913, inventing the sporty sense of style that would forever alter the course of women's history, liberating them from the corseted silhouette. "Chanel also drew inspiration from the race tracks and from the black Cadre Noir uniforms. To me the link between fashion, horses and not to mention her rebelliousness is so very inspiring," say's Wandt who's got a strong international eye when it comes to design as well as horses, "I'd like to think of to think of our dressage mares as Eighties supermodels, amazons walking the runway with all the presence you can imagine, certainly girly - but never pushovers, the very definition of girlpower and empowerment," says Wandt "Most of the riders training the mares are young women, and being a mother of a young teenage daughter, who's also an avid equestrian, I think it's it's an important message to send, how women can do anything, they set their mind to."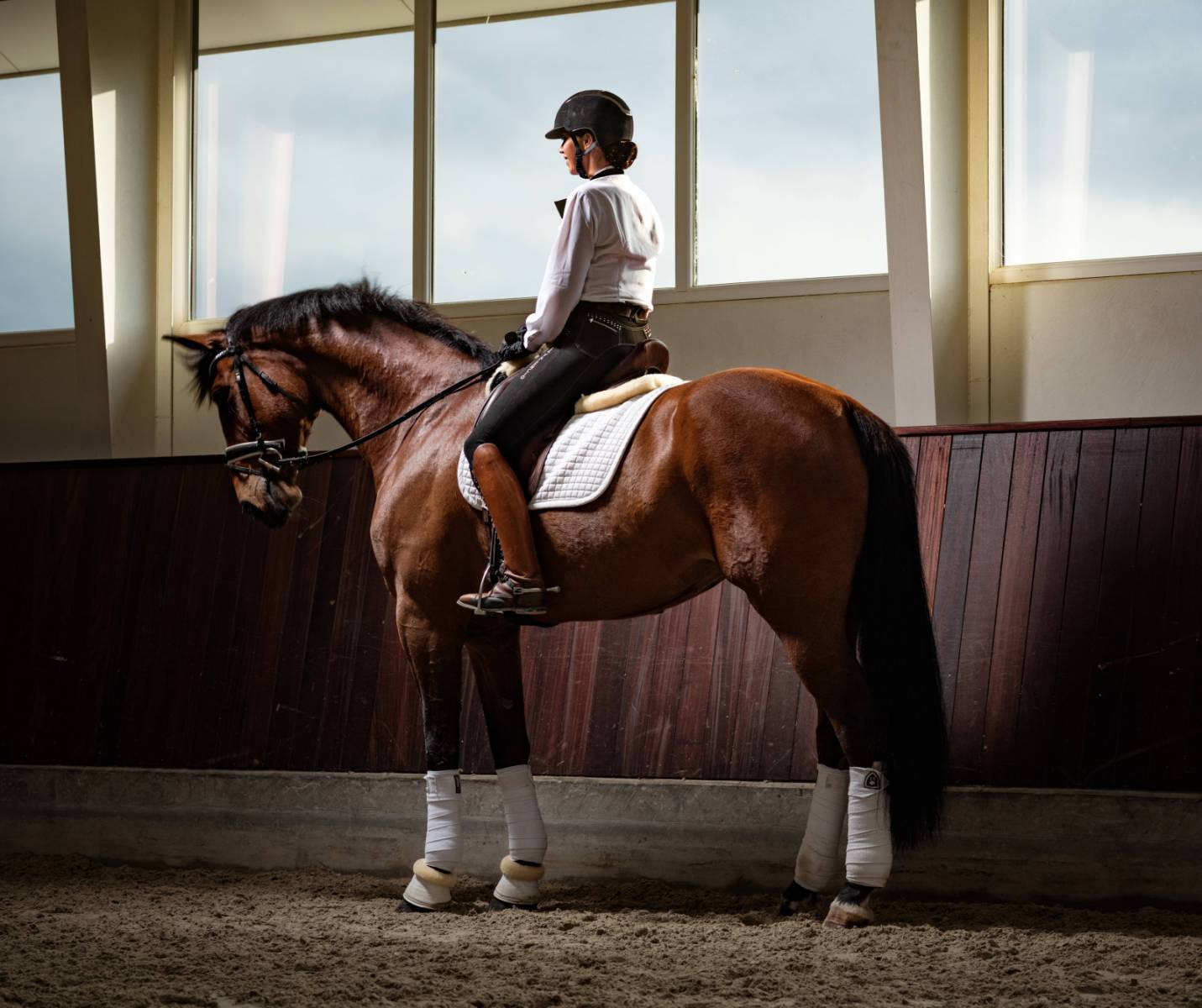 Photography Mads Dreier
As we rise from our seats to take a tour of the building site for the equestrian centre, we pass a couple of old gorgeous lush apple trees.
"An old cider press and our wonderful apples, inspired my husband to re-introduce cidermaking at the Estate, we've planted 400 trees so far and more are still to come," say's Wandt while pausing to admire the small shiny apples hanging from the trees.
The Château de Fontaine cider is produced by the Champagne method, using locally sourced products of the region famed for it's cider making, dating as early as the sixth century.
The late summer of 2017 will feature the inaugural Château de Fontaine cider by star cider master Cyril Zangs, and will become available to family and friends in limited numbers.
"The way our family has been accepted and included into the local community, have been one of the most rewarding joys so far,"says Wandt, "I want this place to include and welcome. And to capture the sparkle of individual performance as well as the magic of togetherness, while embracing the value of the natural and simple beauty found in apple picking or cuddling a foal."
It's time to offer my final question; what is Wandt's most important lesson learned, being around horses?
"I'm truly a perfectionist at heart, but over the years I have learned not to let perfect get in the way of the good. To me riding a horse is absolute freedom and I feel strong, invisible almost, on horseback. It's the place I feel both most beautiful and alive."
Subscribe to the Newsletter
Subscribe to the Newsletter
To keep the emotion, subscribe to the Newsletter