09/01/2018 - Portraits
by olivier maloteaux - photos julien mahiels
the birth of a Star
Marius d'Ecaussinnes
The world-renowned Écuries d'Ecaussinnes stables breed exceptional foals that go on to compete in the world's most prestigious Show Jumping events. Discover the stables through the eyes of one of the future stars of equestrianism.
My name is Marius d'Ecaussinnes. I was born here in this green little village, tucked away in the middle of Belgium, right in the heart of Europe.
After spending a week in a nursery surrounded by caring nannies, I returned home to my domain of nearly 25 hectares: the Écuries d'Ecaussinnes. I adore having so much space, and I am served by a team of five people who tend to my needs every day.
Heading the team is Fernanda Ameeuw, the queen of this vast expanse. For my playground, I benefit from four training arenas: two indoor and two outdoor. I can also stretch my legs on a long trotting track planted with soft grass. For my nutrition, I am treated to a diet suited to my age, standing, and effort.
And boy, do I put forth a lot of effort... It's in my nature.
I was born to shine at the world's premiere Show Jumping competitions.
Since I was three and a half years old, I have set my heart on maintaining an athlete's discipline. My trainers follow the method of the Écuries d'Ecaussinnes and place particular emphasis on my physical conditioning, including cardio and building muscle.
Next, everything depends on me and my abilities: I will either compete on the amateur or the professional level. Of course, the ultimate dream would be to win the top Show Jumping events.
My team rolls out all the stops to get me ready: alongside the stable's official trainers, I am regularly accompanied and mounted by internationally recognized riders.
They teach me to harness my energy and improve my concentration. Though I must confess that they need a great deal of patience to train me...
To polish my technique, they have me practice the jumps over and over again. It's true they make me work hard, but my masters also take care to maintain my morale and keep me in good spirits. Our days often include pleasant rides through the prairies. I am also entitled to the occasional luxury: the domain comprises spa rooms equipped with a shower and solarium!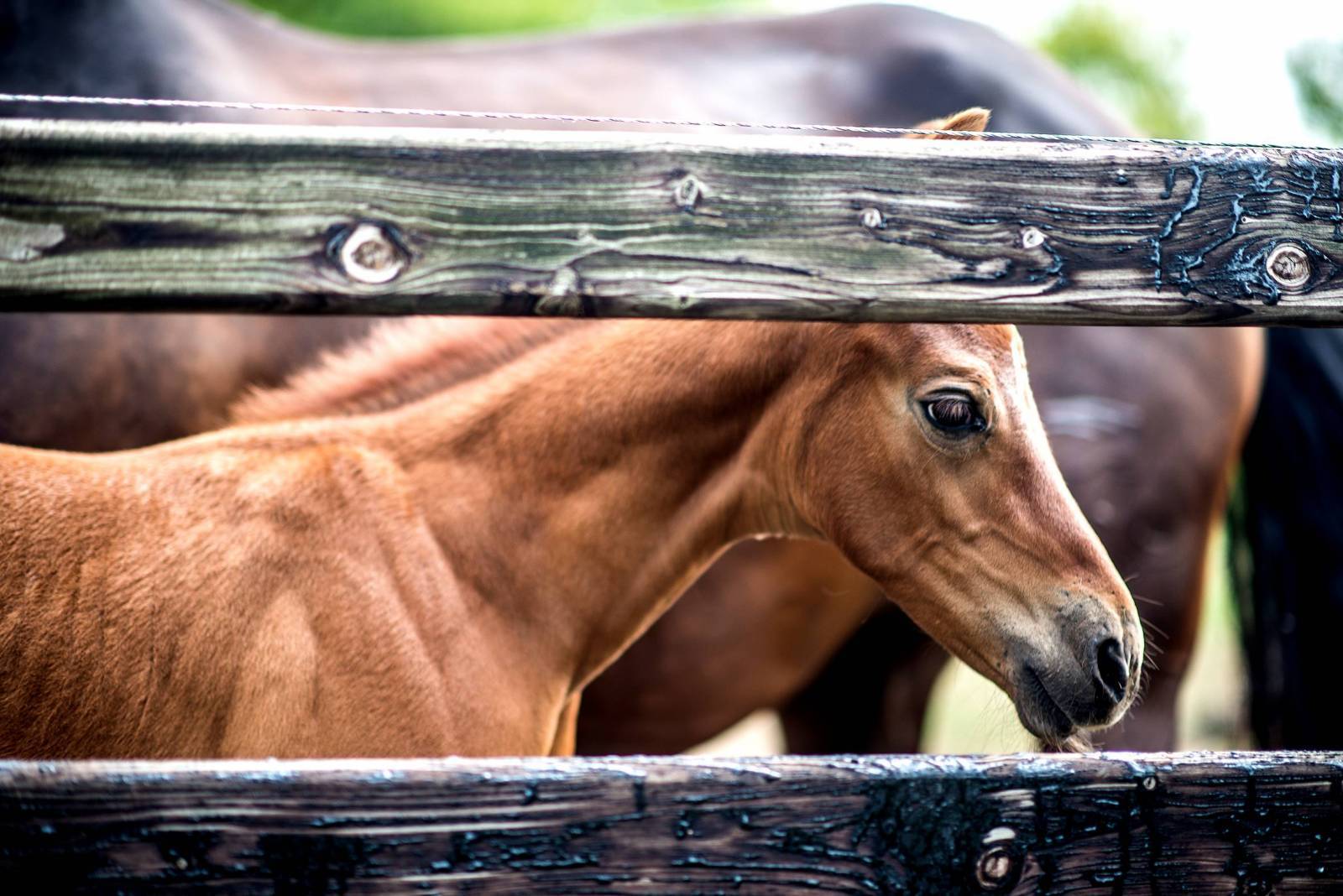 I will soon launch my professional career in Belgium. But I know the day will come when I will have to say goodbye to my home and set off on my own. It's my destiny! Paris, New York, or maybe even Hong Kong! The sky is the limit. How far I go will depend on my skill level and my adoptive family. My cousins like Utamaro d'Ecaussinnes and Venezia d'Ecaussinnes are decorated champions who have traveled the world.
Other cousins have taken up residence in palaces of the Arabian Nights, alongside crown princes... Others have joined illustrious show business families, like the Springsteens or the Spielbergs.
Still others have penetrated the world of finance, with families like the Bloombergs and the Gateses, who also share a passion for my field of expertise.
On competition days, all eyes will be fixed on me. High society types will pack into the grandstands. And when they see my results, some might even break out into bidding wars for the right to lay claim to my abilities... But what is on my mind?
My race results, of course, as well as the hazards of traveling.
Living the athlete's life will mean trotting the globe from one competition to the next. My elders have already warned me: there will be short hops between cities, but also long journeys to new countries. Many trips will be made by truck, massive contraptions that they say are as comfortable as a home.
I will need to get fresh air, too... But I have been assured that the team has taken every precaution to ensure a smooth trip. In fact, my life seems to me like a pleasant voyage. But I will never forget my roots, tucked away in this little village in Belgium, where everything is so green.
Subscribe to the Newsletter
Subscribe to the Newsletter
To keep the emotion, subscribe to the Newsletter